Our world seems farther and farther away from the peace we long for. It is easy to feel stuck in our ways, plagued by the same things as before. But if we want a future that is different from our past we need a God who isn't trapped in eternity, just waiting for us to arrive. We need a God who doesn't just watch from a distance while the world suffers. We need a God who not only cares, but is willing to show up among us, and do something in our lives. In Heaven and Earth we will encounter a God who does just that, who brings heaven to earth and transforms our world.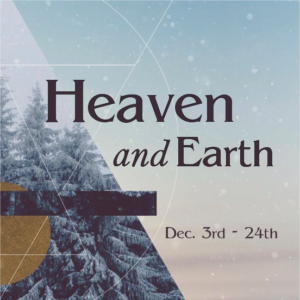 12|24 4pm Candlelight Christmas Eve Service
We know the Sunday morning experience for your kids is important to you. That is why we offer a fun childrens program during worship just for the kids. Following the music, our children join a class of their own where they can explore God's word together through fun lessons designed just for them. For those children Preschool and younger, we also offer a staffed nursery during the whole service.
Click here
to learn more about our
Children & Youth Ministry,
including midweek opportunities.
Check out our channel for the latest videos and be sure to subscribe to stay up to date.